November was without a doubt month of growths and records in cryptocurrency world. Bitcoin surpassed magical $10 000 for the first time in history. Also other cryptocurrencies such as Bitcoin Cash, Ethereum or Dash. As in previous month this time we also witnessed forks and predictions of cryptocelebrities. Check out what interesting happened in November.
Market cap has risen from $182 bln to $303, though at the peak it reached even $343 bln. For the first time capitalization of whole market surpassed quarter trillion dollars. Market cap of Bitcoin itself is moving towards $200 bln – at its peak it reached $192 bln. Bitcoin domination fluctuates around the same 55%, though there were changes at lower places. Capitalization of Bitcoin Cash surpassed over $40 bln along with new ATH (about $2300) and for a moment it was the second cryptocurrency according to market cap. However, Ethereum retook its second places shortly.
Dash had big rise in market cap – it rose almost three times and the price reached new ATH over $800. Also Ethereum Classic had its moment. It was worth $10 in October and nearly $30 right now. The twin Ethereum reaches almost $500 with $480 ATH. However, despite having problems with stable wallet, the biggest growth belongs to IOTA with 235% return rate.
More important forks in this month were Bitcoin Cash fork and Bitcoin Diamond. The first one is considered by majority of community as a necessary, whereas the second one is considered as nothing new or even a scam. However, it was Bitcoin Segwit2x fork that electrified the community. To be more precise lack of the fork as developers announced that it will be suspended. Price shortly after rised and then suddenly followed – investors were surely put under a big stress and emotions. Interesting events happened in Poland: polish financial market regulator warns about ICO and CEO of polish central bank says that if it was possible he would ban cryptocurrencies.
Most important events in November:
Fork of Bitcoin Cash, Bitcoin Diamond and supsension of Bitcoin Segwit2x fork
First five-digit price of Bitcoin ($11 441 ATH on Bitfinex)
Bitcoin Future Contracts announced by CME Group
BCH bubble and "the flippening" – discussion in community whether or not Bitcoin Cash beats Bitcoin
31 bln USD Tether theft
ICO Confido turns out to be a scam
Full node of Bitcoin Gold available – Bitcoin Gold in top 6 market cap
"Buy Bitcoin" more popular than "Buy Gold" for the first time in the history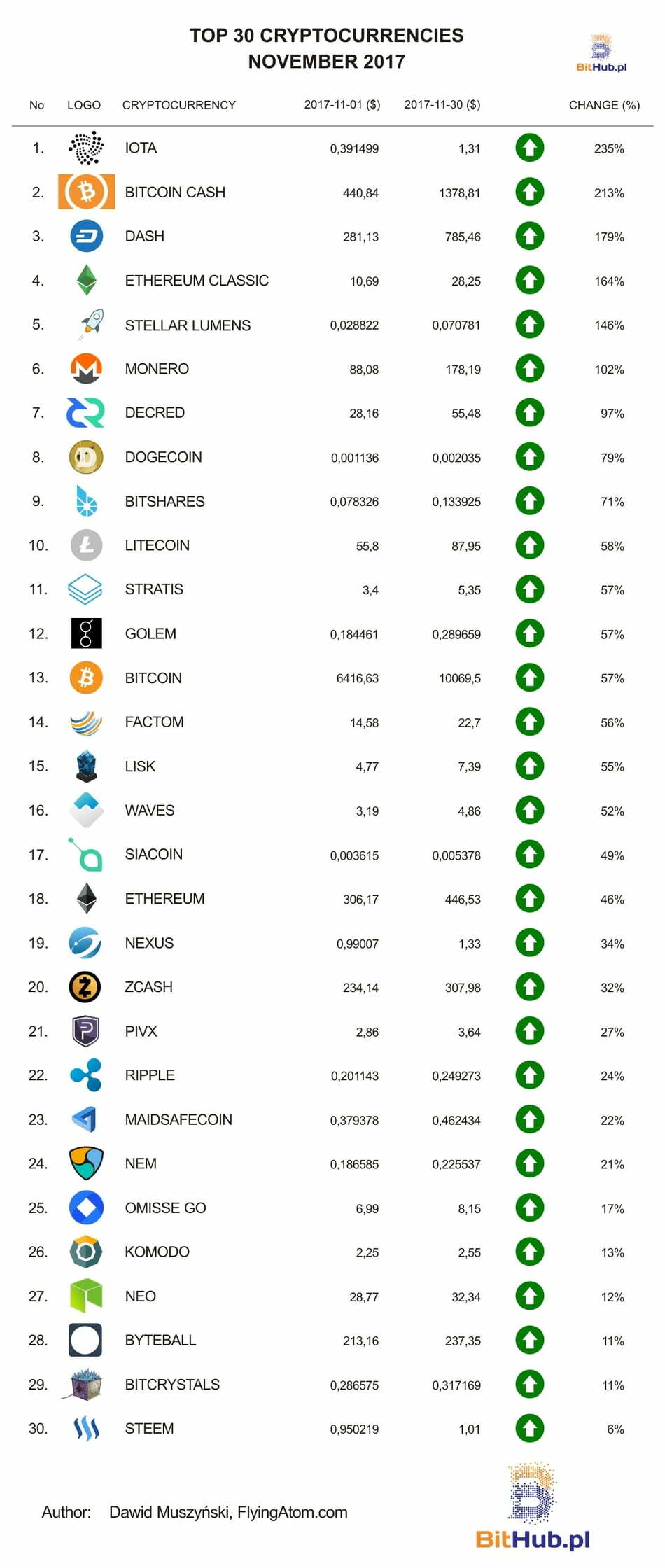 For Bithub.pl Dominik Gordel, our analyst Picasso and JPK Traders comment on November
Dominik Gordel:
Euforia. This word desribes November events on the cryptocurency market the best. Especially when it comes to Bitcoin. Secret dream of many has come true – Bitcoin is worth $10 000. Psychological barier was smashed quickly without many failures. Although in the last ours of November Bitcoin starts to fall, this days are historical in crypto world.

Bitcoin dominated whole month but it is owrth mentioning about few moments of weakness. They were caused by Bitcoin Cash, which is considered to be Bitcoin biggest rival. In the peak of its growths Bitcoin Cash was worth moe than a half of Bitcoin. This means a 10x growth in just few days. It also caused local price corretction of Bitcoin. However, it didn`t last long, though many announced "the flippening" – a change of places betwen BTC and BCH. Fall of Bitcoin was quickly stopped and BCH started to fall. Yet, until today there are many emotions and controversies around that event both in protagonists and antagonists of BCH.

There were also many events in countries but this time they were just a background, not a main cause of growths. Bitcoin showed its strength but now sellers have their time. We`ll see how deep price correction is going to be and are the newcomers ready for it – many joined in the last days.

It was Bitcoin that played the main role in November. Other cryptocurrencies stayed in background. However, Ethereum and Dash reached new ATH in the last days. Still the publicity was focused on Bitcoin
Picasso:
November was extremely interesting and a bit different than previous months. We observed many dynamic, ATH growths on many coins. Bitcoin price rised in this week over 55% and surpassed not only $10 000 but also $11 000. Current ATH is about $11 395. As it usually happens with such importang psychological barriers, the same day we had first sell off. As a result month ended mearly $50 below $10 000.

In November capitalization of whole market cap grew up to $293 bln – it is $110 bln. This growths were mostly caused by altcoins appreciation. In the end Bitcoin domination fell from 58,74% to 55,86%.

One of the most important news of last days is information about Bitcoin future contracts by CME Group. "Considering growing interest of clients in dynamically growing cryptocurrency markets, we decided to introduce Future Bitcoin contracts" – said Terry Daff, CEO of CME Group. "As one of the biggest regulated currency market CME is a natural target for new technologies. It guarantees transparency, accurate prices on possibility of switching risk".

November proved that Bitcoin Cash – an effect of first Bitcoin Fork – does not have to compete with Bitcoin. Both coins can develop in parallel realities. After Segwit2x suspension price reached $2800 – %900 since last minimum. If the fork occurred there would be "fourth Bitcoin". Month ended on $1318 but this does not mean end of growths. Personally, I think that BTC and BCH don`t have to compete with each other. Until end of November growths of one meant falls on the second. During this month it has changed.

Considering last Bitcoin Diamond fork and plans of another ones I start to think what for what purpose it should happen. I won`t say that I`m not happy with "free money" but I think that if it goes like this and development tempo stops than we can have two forks monthly in next year.

Apart from this, it is worth mentioning that more and more people form community and not only start to publically talk about Bitcoin:
JPK Traders:
Another month has passed. November was emotional not only for Bitcoin but also for other altcoins. Another Bitcoin fork happened – Bitcoin Diamond and another maximums after it. Before it happened Segwit2x dev team announced that they suspend Bitcoin Segwti2x fork. This fork was supposed to double block size limit. This announcement was presented by Mike Belshe e-mail. He informed that segwit2x is suspended because there is lack of consensus on this matter. As a reaction to this information price reached new peaks and shortly fall to $5 800.

In the previous month Bitcoin price kept around $6 100. Current maximum is $11 400, so this means that price has doubled its base in just 30 days. Capitalization of Bitcoin itself rose from $101 bln to $192 bln and stays at around $162 bln. Bitcoin domination is about 56% in the moment of wrting this comment. At the beginning of November it was about 62%.

Since announcement of Segwit2x suspension Bitcoin was falling and Bitcoin Cash rising. It can be characterized as one of the biggest capital migrations on the cryptocurrency market. BCH doubled its price in 24h after the announcement. In two days its price grew four times. Many speculators claimed that Bitcoin Cash is now going to be the main Bitcoin. At one moment BCH was second when it comes to market cap – for a long time people discussed about Ethereum and when it will take Bitcoin`s place. Even Vitalik Butern, creator of Ethereum, wrote congratulations on Twitter

At Black Friday we witnessed creation of new currency Bitcoin Diamond. It was created along with 495 866. BTD increased block size as a solution to scalability problem. Time of generating blocks has been extended five times. As a next long-term step BTG aims at improving time of confirmation. Number of tokens is ten times higher than in BTC. Shortly after BTD fork Bitcoin reached $11 400 and falls until today.

Ethereum also performed well in this month. ETH price from $306 rose to $505 and started to fall. Price moved in consolidation for a for a while so when it broke up it was just a matter of time for a new peak.

This month was good for Litecoin. Currently seventh cryptocurrency according to market cap has risen from $55 to $103 and finished month with $80 result.  

The same happened with Lisk price as it rose from $4,8 to $11,5. Price gave big return rate.

And finally Dash rose from $285 to $818. It moved pretty technically giving many opportunities to those who didn`t buy it at the beginning of month.

As we can see it was a month of growths with many occasions to earn.
Author: Dawid Muszyński, Flyingatom.com
Previous ranks of cryptocurrencies:
Top Cryptocurrencies in July 2017
Top Cryptocurrencies in June 2017
Top Cryptocurrencies in May 2017
Top Cryptocurrencies in April 2017
Top Cryptocurrencies in March 2017
February 2017 cryptocurrencies' ranking
Top Cryptocurrencies in January 2017