In June the whole market capitalization grew from 82,876 bln $ to 99,552 bln $. It is a growth of 20%. Capitalization of all others cryptocurrencies (excluding Bitcoin) grew from 45,506 bln $ to 58,756 bln $. It is a growth of 29%. At its highest moment market cap of the whole market was 116,550 bln $.
June`s three best cryptocurrencies are as presented: the leader was Bitshares which gave 279% return rate. The second place belongs to Komodo which grew about 244%. The third was Byteball with 126% result. The leader of April and May – Stratis – gave in June "only" 20% return rate.
In June decision was made to implement SegWit2x. This solution will increase transactions speed up to 2-4 times. It is also more often heard that ETH will take over Bitcoin in market cap. Some even say that it may replace BTC, which I personally don`t agree. However, this is a topic for another article.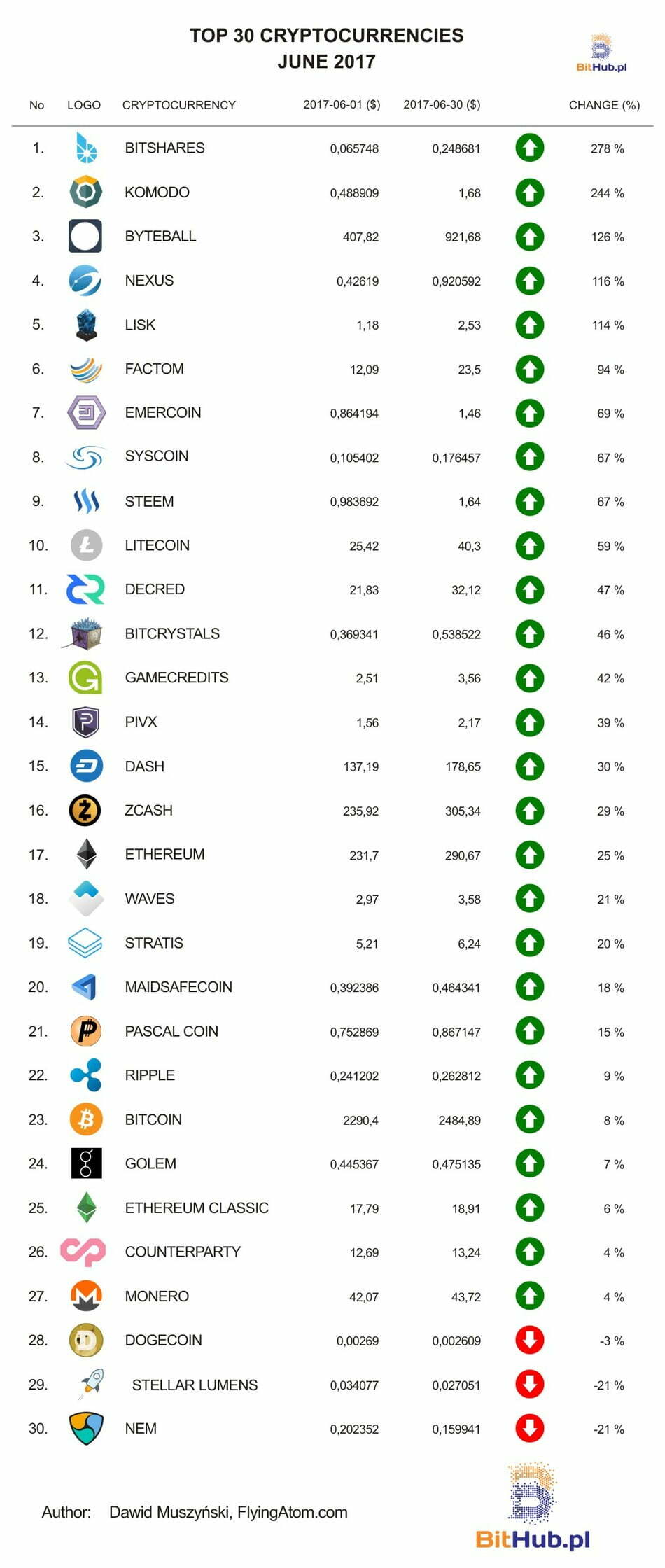 For Bithub.pl Adrian Gozdera and Dominik Gordel comment June
Adrian Gozdera:
The beginning of June was very promising and profitable. Bitcoin established a new price record on Bitfine exchange, which is for me determinant. 3000$ has been reached, unfortunately the movement and strength were too weak to hold this level. Although we reached psychological barrier shortly investors started to sell. This resulted in falling price – during next 4 days it fell to 2000$, 35% below ATH. After such large falls we had another attempt on all-time-high. However, the movement ended on strong resistance level 2700$.

Second half of June was not so good as the first one. Even Bitcoin fights to remain in ascending trend. As I have presented on Bitcoin Polska group on Facebook there are a few possible scenarios. We are still close to the ascending line – breaking down 2250$ may take us lower to 2000$ levels. Maybe even testing of 1750$. If we don`t stay on 2250$ we may – at the best case – enter consolidation trend. It would be a good period for altcoins because when investors are calm about Bitcoin`s price they start to invest in alternative markets of cryptocurrencies. There are also possible worse scenarios. In my opinion we may enter descending trend. In big time interval (1D) technical formation of head&shoulders is possible to appear (we are in the phase of the second shoulder right now). Only a strong movement towards 2750$ or consolidation can save Bitcoin`s price.

Bitfinex exchange still has blocked possibility of withdrawals and deposits in FIAT currencies. Only bigger investors can at once withdraw more than 50 000$. From all exchanges those in Asia performed the best (Japanese and Chinese). Fall of Bitcoin was initiated by Bitfinex and other exchanges only followed. Until the matter of blocked deposits and withdrawals is not solved, we will see often up and down movements because of lower liquidity as a result of undervaluation of Bitfinex.

The situation of other cryptocurrencies is similar to Bitcoin. When it broke its price record Ethereum and many other altcoins did the same. Price of ETH, which is the second according to market cap, reached over 400$. At the moment situation looks like it was preparing to bigger correction down to 0,080-0,085 levels on eth/btc pair. In June there were also many successful ICOs. Status Token and Bancor gained more than 100 bln $. Too many funds gained in ICO is a barrier to possible profits from investments in a short period, which is why debuts of these cryptocurrencies on exchanges are not the best ones.

ICO mania may vastly stop in an upcoming weeks. I perceive that market is a bit overbought and that number of online users on exchanges is falling down. If new users won`t start to come we may wait for bigger price corrections even to 38-50%. It is worth observing if there are any weaknesses of market – it may save us from bagholding particular altcoins. The market won`t grow eternally. Statistics show it on any type of market forex, stock or resources. In the end about 5-20% of people even not gaining but not losing. All others lose their money. Many investors will stay with "paper profits" – such profits that will never be realized or they will be realized when the will no longer be profitable.

Summarizing this comment, It is worth analyzing current situation on the market of cryptocurrencies. We may be close to the end of bubble but we also may be in front of another last wave in which Bitcoin will go beyond 3000$? It may happen now but it may happen after holidays as many investors are usually going to rest. When it comes to mining, today`s situation is the same as in the end of 2013 when there was lack of mining hardware in shops. Prices of graphics cards are too high because everybody want to mine. How it all ended in 2013 everone can check by looking at the Bitcoin price charts. In 2014 I had anxiety that it all is trendy and shortly everyone will forget about cryptocurrencies. Right now I am totally convinced that with every year market will be gaining not only on value but also on importance and it will attract new people.
Dominik Gordel:
There were lots of emotions June both for bulls and bears. Beginning of the month was very successful for Bitcoin. After dynamic growths the price reached 3003 on one of the exchanges. It was therefore the new price record. However, the euphoria didn`t last long. Day after ATH sellers start to dictate the market and price has fell to 2300$. Other days were mixed between growths and falls, all around 2000-2800$ levels. In the last days of June price stopped on 2400-2500$ levels. Undoubtedly it was very thrilling month to all people connected with Bitcoin.

There were also many news and positive information such implementing Bitcoin on to platforms in Great Britain and Japan or plans of production of NFC cards with both payments and Bitcoin wallets function. However, it seems that in an upcoming month these information won`t have the biggest influence on the price of Bitcoin. All will be clear in the last days of July and first of August: SegWit, UASF or Segwit2x. Which idea will win and how many Bitcoin types we will have in next month? One thing is sure, we should prepare for big price variability.

No less emotional was market of altcoins in June. Ethereum rose from slightly above 200$ to 412$. The price however quickly fell and it once again returned to 200$ levels. In the end of month price is below slightly below 300$, more precisely around 280$. It is clearly seen that after euphoria and new peaks to many altcoins in the first half of June many tend to change the trend to descending or at least big correction. It is nothing surprising that growths cannot last forever. The most important matter is in the upcoming weeks is how potential price correction will influence altcoins. It will show the level of maturity of altcoins market and show which of them had any fundamental predispositions to grow and which were simple pump&dump.
Autor: Dawid Muszyński, Flyingatom.com
Previous ranks of cryptocurrencies:
Top Cryptocurrencies in May 2017
Top Cryptocurrencies in April 2017
Top Cryptocurrencies in March 2017
February 2017 cryptocurrencies' ranking
Top Cryptocurrencies in January 2017