In September`s rank we have changed 5 cryptocurrencies. Pascalcoin, Emercoin, Counterparty, Syscoin and Gamecredits have been removed and we have added Omisse Go, Bitcoin Cash, NEO, IOTA, Siacoin. Almost every currency lost in this month. It can be seen when we look at capitalization of the whole market. It fell down from $172,593 bln to $47,673 bln – 14%. And the market cap of altcoins fell down from $94,762 bln to $74,753 bln – 20%. Top 3 in September are Komodo – 48%, Zcash – 0% and NEO – 0%.
Bitcoin price in Poland during almost whole month was 6-9% higher than on global markets (Bitfinex, Bitstamp, Kraken, GDAX). Currently it is about 3% lower.
Another panic – this time caused by closing of chineese exchanges – resulted in price falling to $2980. It was a great opportunity to buy cheap Bitcoins. JPMorgan CEO spoked and it turned out that he knows more about Bitcoin than anybody else. Good thing he didn`t comment on cocoa price in Suazi because probably he has the same knowledge as about Bitcoin. Previous two media panics were identical: the one about conflict between Bitcoin Core and Bitcoin Unlimited and the second one during o% fee and closing leverages on chineese exchanges. Both cases were wonderful opportunity to buy.
Intresting events in September:
-Japan gives license to 11 cryptocurrency exchanges
-European Central Bank won`t regulate Bitcoin
-Ethereum`s Byzantium Hard Fork postponed
-Australia takes down double Bitcoin taxation
-Investors move from China to Korea and Japan
In Poland:
-PATB launches startup voting
-Bitbe.co and shopper.pl present applitcation for Bitcoin transactions
-Another edition of Bitcoin Stamps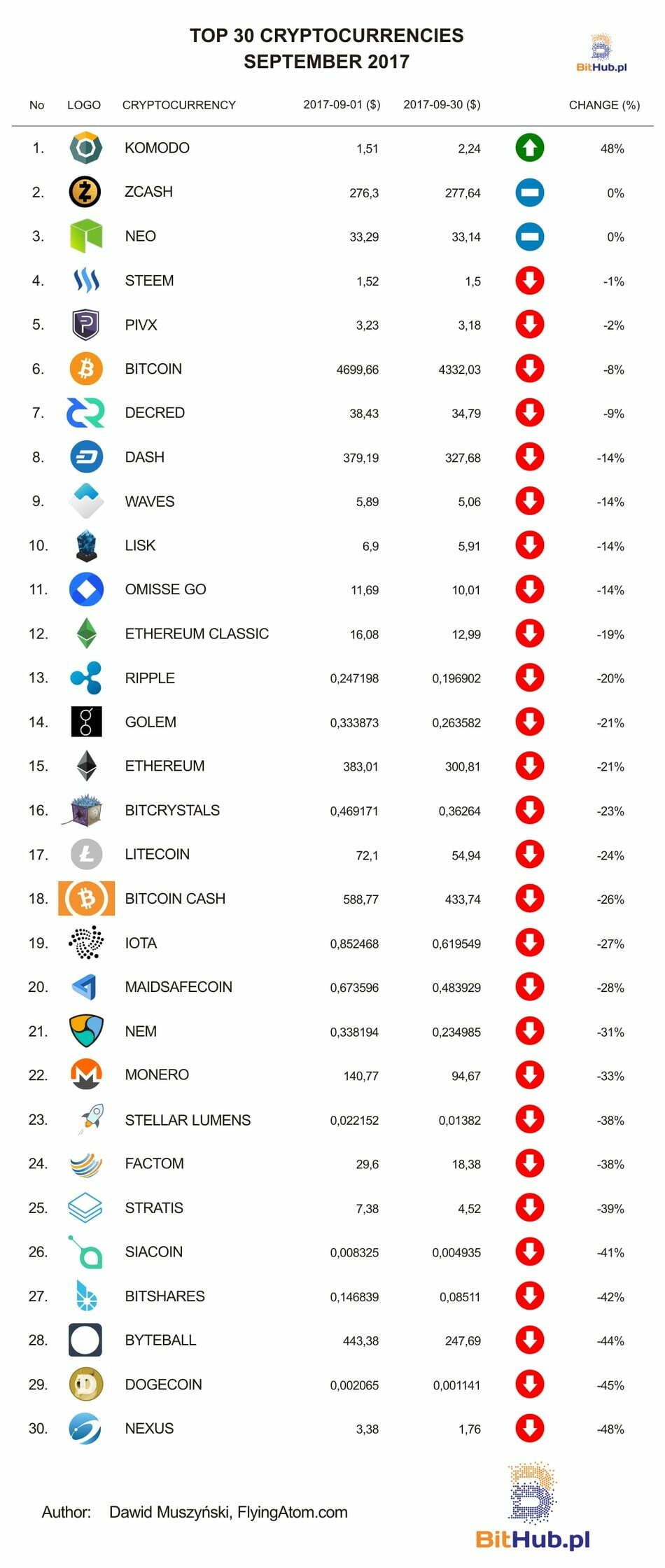 October seems to be very interesting, mainly because possibilibty of "Third Bitcoin". Bitcoin  communities cannot come over their differences and agree about SegWit2x implementation. It should cause big price movements.
For Bithub.pl Adrian Gozdera, Dominik Gordel, JPKTraders and our analyst Picasso comment on Septemeber.
Adrian Gozdera
China once again!!!

Once again gossips from China lead to Bitcoin price fall. Mithical "Chinese ban" works perfectly since many years and it can turn price in opposite direction just in few days. Beginning of September was time of beating price records on Bitcoin – almost $5000 was reached. As I wrote in previous comment this level was the key to further growths. Overcoming it would give a strong signal to $6000 ride. However, $5000 was not reached and therefore the price started to fall on many exchanges. What else drowned price? Gossips about Bitcoin and altcoins ban didn`t actually become true. Yet, Chinese government seriously takes care of ICO regulations. It is very possible that it will regulate crypto exchanges as well. Until 30th September most of them has stop trading. Only Huobi and Okcoin were treated more kindly – probably because of their potential and not involving in ICO.

The panic was stimulated by twits from official exchange accounts, which resulted in price falling to $3000. Since than price has strongly recovered. Recovery was probably caused by another gossip, that JPMorgan invests in BTC. It also was not true, because this great bank bought special "coin" on Swedish exchange in name of its clients. This means that clients, not the bank itself were interested in buying Bitcoins in CFD form. Although the bank denied the gossip, the price didn`t fall down and by the end of September it reached $4400. In my opinion it is a very important level and may – if price does not start to fall again – create head`n shoulders formation. This formation suggests trend change and $4400 should be area of "shoulder". Yet, still there is a lot of time to creation of this formation.

I start to see falling demand, both on Bitcoin and altcoins. When Bitcoin reached $4400 on Bitstamp there was no such enthusiasm as previously and price stayed much lower than on Bitfinex. Higher price there is possible beacause of leverage players, who tend to close their positions irrationaly, according to emotions. Also many players are eliminated because of big price changes.

My another observations is short but dynamic pump on Zcash. It all finished with quick fall, as on Dash, though here price fell slower. It all creates market weakness in my opinion. Maybe investors are waiting for something huge or maybe new people are not joining the market as previously. Poloniex lost 2/3 of their users comparing to the peak of growths. Volume is also smaller and Bittrex is not able to create such big volume as on Poloniex. It is my subjective view and I remain bearish.

There are some pros of this situation. The price didn`t fall down, though many negatice information. I think that the credits should go to people who are shorting but it may also be merit of demand. Bitcoin Cash has to play in the background, because it is being marginalized. Volume is low but it is worth observing as price may quickly rise. Another interesting month is here to come. I think that most of attention will gain new projects and those which did not have their astonishing growths.
Dominik Gordel:
Last weeks meant political games in the world of crypto – mainly in the world of Bitcoin. However, all currencies suffered from negative market information. September started marvelously – $4970 on Bitfinex but the ending meant mainly losses. It all started pretty innocent from few Charlie Lee`s twits. He informed about possible ban of Chinese exchanges by China`s government. Charlie himself didn`t predict that his info will end in such panic. And it was a total panic, on all exchanges. Altough exchanges did not confirm such fact in first days, falls without major corretions took over the market. Exchanges even tried to deny, claiming that they didn`t receive any orders from government. If this was not enough, JPMorgan CEO called Bitcoin "a big fraud". It is worth mentioning that these words were spoken by the CEO of a bank which is responsible for the big crisis in 2008.

Recovery came in the middle of the month. After reaching $2980 minimum, price jumped to $3900, which surprised many. It may all have been thanks to BTC-e, which restarted some key functions – including withdrawals of some funds. The new site actually appeared few days after. Another games of Chinese government (confirmation of closing exchanges) had smaller impact on the price. Next, many modifications of this ban started to appear, such as postponing ban for some exchanges for a month. The market however, started to be resistant on this political games. Many people saw that it may probably trick to lower the price. And it seems to be true. In the last days of September Chinese news provider Jinse.com announced that since 1 October virtual currencies may be recognized as "virtual property".

September was totally devoted to Bitcoin events but there was also time for altcoins. Mainly ICO projects had good times. The ICO market develops dynamically and many new startups rise as they want to turn their ideas into money. There are also first tries to regulate or deregulate ICO as in South Korea or China. Also USA try to regulate ICO. It seems impossible that few countries will ban ICO or cryptocurrencies 100%. It is more possible that government will try to make new taxes to gain funds from this field.

When it comes to ICO projects themselves, it is worth mentioning that there are a lot of strange and not real ideas. Only those projects have chance to survive which will in a long period of time introduce product that is essential for the community of cryptocurrencies.
JPK Traders:
September brought us big variability on the market. Main reason were few fundamental events, occurring one after another. First half of the month was definitely bearish. Total market cap form $179 bln on 1st September fall down to $100 bln on 15th September. We didn`t observe such big falls on exchanges for a long time. Most of cryptocurrencies decreased their price by several dozen percent compared just to previous day. In the meantime, price of Bitcoin was falling continuously – from $4900 to $3000. It was the area of 61,8% Fibonacci retracement.

From this point recovery has come. Market cap is $146 bln currently. Analogically, capitalization of altcoins (without Bitcoin) did pretty much the same. From $97,5bln to $53 and then  to $75,5 bln.

It is also worth mentioning that Bitcoin price in just 15 days recovered almost 61% of falls from the first half of the month.

Information that caused panic:

China ban Bitcoin

Russia wants to regulate Bitcoin and altcoins

Ethereum Hard Fork

Monero Hard fork

European Union does not support local currencies

JPMorgan contributes to price fall

China announce closing of all exchanges until 30th Setpmeber apart from OkCoin and Huobi, which will be cloes by the end of October

Thailand support ICO and wants to regulate it

Bitcoin may once again be splitted – another hardfork

South Korea bans ICO

The most important was the first news. In our opinion, regulating ICO is a good choice. China didn`t announce total ICO ban but a temporary blockade until this matter is regulated. As for today many people who supported ICO were deceived. They sent their money on projects that will never be realized. It can also be seen that China government doesn`t intend to paralise this market – it gave more time for two biggest exchanges. In our opinion China intentions are rightful, because they tend to protect their citizens, not to block the technology. Also the market reaction confirms our thoughts, as we have recovered a lot.
Picasso:
September was a period when Bitcoin (and not only) lost a lot in price – from $5000 to $3000. It is a loss of 40% and was mainly caused by the China affair. People Bank of China decided to deleglize ICO. In an upcoming days we were able to hear that major Chinese exchanges are closing as well as JPMorgan CEO calls Bitcoin "a fraud". This information resulted in Bitcoin price falling to psychological level – 3000 USD.

Considering technical aspects we can see that similar loss occurred on altcoins. Huge correlation between these markets caused that in one moment prices of many cryptocurrencies tested their support levels. And exactly on 15th September demand reactions started to appear. Since than, we see more or less dynamic growths – Bitcoin is now at $4360 resistance level. Excluding fundamental aspects, which had huge influence on price fall from the first half of Septmeber, we are able to see that falls were nothing surprising from a technical point of view.

Focusing only on Bitcoin, 3000 USD level was in many cases in history a resistance level. I was also top of precious consolidation. Accroding to technical analysis, after overvoming every– especially such important – resistance level price should test it few times from the top – now as a support level. In this case we had to wait 6 weeks for such test. Considering that retest is behin us and that since 2 weeks price is continuesly moving upwards, we should expect another test of historical maximum. Permanent overcoming of this resistance level could open close certain chapter in the history of Bitcoin and open way to another growths. And the technical potential is not limited.

However, if price should go like that, it has to beat to local (less important) resistance levels: 4360 USD and 4650 USD. And these are the levels were supply reactions may appear.
Author: Dawid Muszyński, Flyingatom.com
Previous ranks of cryptocurrencies:
Top Cryptocurrencies in July 2017
Top Cryptocurrencies in June 2017
Top Cryptocurrencies in May 2017
Top Cryptocurrencies in April 2017
Top Cryptocurrencies in March 2017
February 2017 cryptocurrencies' ranking
Top Cryptocurrencies in January 2017