In August there were both price records and capitalization records. Market cap has rose 88% from  $91,987 bilion to $172,563 billion. Top 3 currencies of August are as presented: Nexus – 296%, Lisk – 258%, Monero – 253%.
Growth of capitalization is mainly caused by rising price of Bitcoin  – 63%. Considering "Bitcoin before 1 August split" – Bitcoin and BitcoinCash – it is even 83%. Everything that happened with Bitcoin price is exactly what I have described on my public Facebook profile. If nothing bad happens from the Bitcoin`s informatical site it should rise about 30%-50% yearly.
However, in the meantime Bitcoins cap compared to the whole market shouldn`t fall under 35% share. Currently it is about 45%, so no matter how much market is going to rise, the same rise in % should appear on Bitcoin. BTC is the same to the world of cryptocurrencies as USD is to world of FIAT currencies. Majority of available trading pairs are in Bitcoin.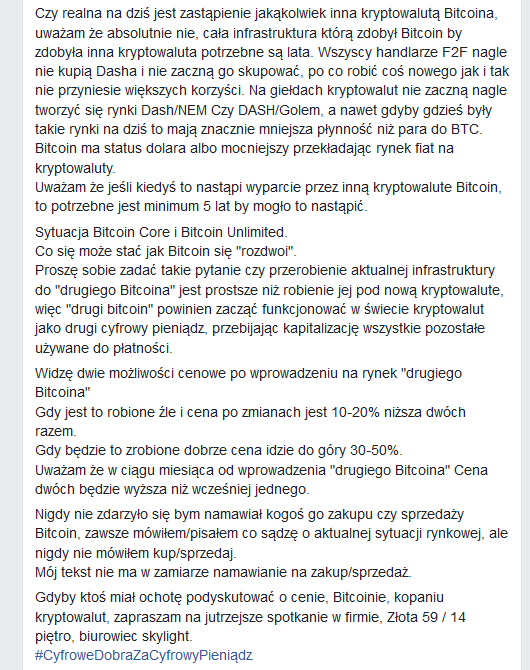 Facebook post:
Is it possible that Bitcoin will be replaced by any other cryptocurrency? In my opinion it isn`t possible today. It would take years for altcoin to gain build such infrastructure that Bitcoin did. For example, all Face-To-Face traders won`t suddenly buy DASH – why doing something new, if it wont` be profitable anyway? There won`t appear such pairs as DASH/NEM or DASH/Golem on cryptocurrency exchanges. And even if they will, liquidity will be much smaller than on BTC. Bitcoin has a dollar status – or even something greater – if it comes to cryptocurrency market. In my opinion, if Bitcoin is going to be replaced by another cryptocurrency, at least 5 years are needed.
When it comes to the situation with BitcoinCore and Bitcoin Unlimited and what could happen if Bitcoin splits: Ask yourself what is easier – changing existing infrastructure to second Bitcoin or to another different cryptocurrency? Therefore second Bitcoin should start acting like second digital money, beating capitalization of other coins.
I see two price possibilities on the market of second Bitcoin. When evereything goes wrong price of both coins will be 10-20%. If everything goes good price goes up 30-50%. I also believe that within one month from split the price of both is going to be higher than previous price of just one Bitcoin.
I have never tried to convince anyone to buy or sell Bitcoins – I have always spoked my beliefs about current situation on the market, but never persuaded any one to buy/sell. This text is not meant to do so. If anyone would like to discuss about the price, Bitcoin or mining than I kindly invite to tomorrow's meeting in ma company.
Full post in Polish can be reached by clicking this link.
The rank is published every month since January, when summary of 2016 was presented. Since that they it appears monthly on the 1st day. I`m looking for 3-4 people who could comment the rank (as experts below do) and 1-2 people who are fluent in English. If You think You could handle this than please contact us:
The rank was quoted on cryptocurrencies` official sites – thank you NEM team. Therefore, ones who comment rank are likely to be recognizable throughout the world.
In an upcoming rank there are few altcoins that are going to disappear:
Pascal coin, Emercoin, Counterparty, Syscoin, Gamecredits
In groups:
Bitcoin Polska
https://www.facebook.com/groups/bitcoin.polska/?ref=bookmarks
Ethereum Polska
https://www.facebook.com/groups/849846545041140/?ref=bookmarks
Inwestycje Kryptowaluty Altcoin ICO Bitcoin Analiza techniczna
https://www.facebook.com/groups/203618073462346/?ref=bookmarks
There will be votings and from 5 new cryptocurrencies will enter the rank from 10 possible to chose:
Binance Coin, Bitcoin Cash, BitConnect, EOS, Iconomi, IOTA, NEO, OmiseGo, TenX, Qtum
We are informing You today so that no one could blame us manipulation with choosing only this altcoins which gained in month and therefore claiming that the market is rising every month. However, we are not able to stop one from voting in all three groups so it is possible.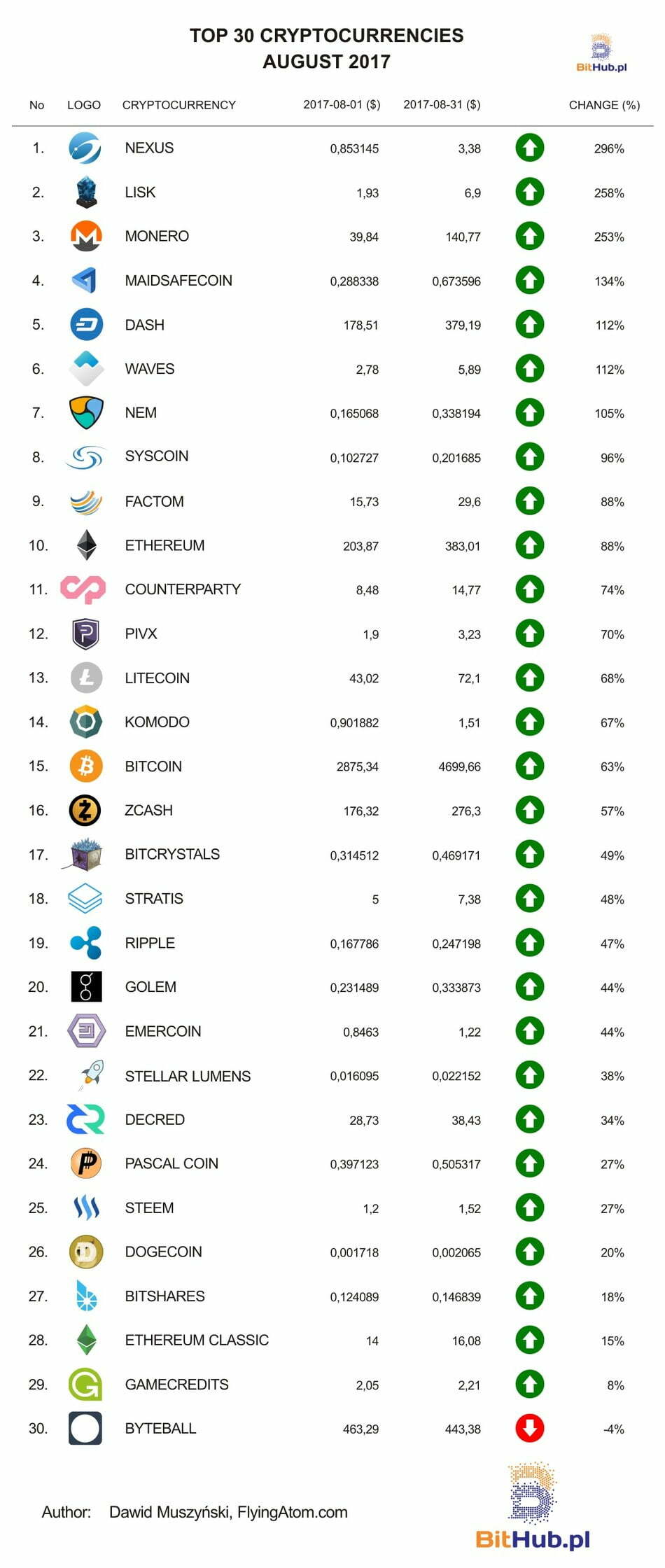 For Bithub.pl Adrian Gozdera, Dominik Gordel and well-known user of Polish Bitcoin Forum sha256 comment on the month.
Adrian Gozdera:
The bull market continues as more and more money come into the market and Bitcoin price breaks another records. If the current tempo holds on, it is very possible that people who opened short positions will loose. According to my analysis, in the current price movement we are likely to beat $6000. Very important level is $5000. Will it be easily passed or  will we get stuck for longer. Because of big leverage possibilities on Bitcoin we may witness flash crashes on exchanges. It is opposite situation to the one described above. There is a moment when because of too many leverages of long positions alongside with rise of eager to sell  their "hold" Bitcoins since $200-$500 levels it may simply cause chain reaction. Therefore it is necessary to watch the situation and think of both possibilities:  quick and big rise or sudden fall.

Bitcoin split is finally reality. There were concerns about it and before 1 August price has reacted negatively, falling to $1900 average. However, after BitcoinCash debut both concerns and supporters of SegWit2x started to loose their support. BCH itself had few price races. People who had Bitcoins before the fork can now be satisfied as they got free money. If they didn`t sell them at the beginning they can do it now and get even more money. Previously price varied between $110-$1470. Alongside with August moving on, altcoins slightly suffered in relation to Bitcoin (ALT/BTC). However, thanks to Bitcoin rise they were also successful eventually. Moreover, as capital flows into the market new people usually buy Bitcoin just to buy altcoins to multiply their gains. Bitcoin stabilization would be the best for altcoins. It would give many opportunities to investors, who are very sensitive to Bitcoin changes.

As in the previous month I`ve spoken about bull markets, I do the same now. Perhaps this year and next one will be bullish and bank institutions will start their cryptocurrency-based products dedicated to average Smiths. In such case ending of 2019 is not so sure and the whole cycle may look completely different. I recall last month`s schedule:

The First Great Cryptocurrencies Bubble – ending of 2013 – first half 2014

The Second Great Cryptocurrencies Bubble – ending of 2016 – first half 2017

The Third Great Cryptocurrencies Bubble – ending of 2019???

I didn`t think that the bull market is going to be so bullish. However, until it remains bullish it wise to use opportunities for short, medium and long term investments.
Dominik Gordel:
August`s soft fork on Bitcoin was surprisingly calm and steady. Although creation of new Bitcoin (Bitcoin Cash), Bitcoin (Bitcoin 1) grew almost whole month having only one serious price correction. August is finished with almost twice as high price as the end of July. Also BCH price astonished many, when closing to $1000. Probably many took the opportunity and sold  "free" BCH, yet we shouldn`t forget about this coin, though it entered descending trend.  BCH`s hashrate at one moment was almost the same as BTC`s. It didn`t last long – quick difficulty correction lowered miner`s gains to levels almost not worth mining. Therefore majority of miners eventually returned to Bitcoin, which has gained new rival with identical source code but higher capacity. It`s worth remembering that in weak days of Bitcoin its direct rival can attract investors attention. It may lead to reverse correlation of both coins.

"Green" has returned on altcoin market. Although in relation to BTC there are still far away from the peaks, prices of each grew several dozen to several hundred percent in USD. Also altcoin share of market is 55%, which causes Bitcoin to owe less than half of market.
sha256
August was characterized by emotions and uncertainty with Bitcoin hardfork. Starting from bonus opportunity of having Bitcoin Cash tokens, through emotions connected with trading on BTC/BCH pair. It is just enough to say how many confirmations were required by exchanges and online wallets in the beginning o August. In some cases even 100 confirmations weren`t enough, which connected with regularity lack in resolving blocks made BCH almost useless.

Because of its mechanism regulating difficulty Bitcoin Cash appeared to be unstable. One can ask whether automatic switching on the most profitable chain mechanism, which is implemented by mining pools, is going to make a difference? From investing point of view, it seems that BCH has not said last word yet. Price stabilized around $550 and the market seems to be sold.

Bitcoin Cash problems resulted in market finally appreciating Litecoin. Efforts of its creator Charlie Lee are not meaningless here. It appeared that speed of transmission and price stability were finally seen by users. As a result we have price appreciation and strong rise of capitalization. Litecoin price moved in ascending channel since April/May and by the and of August exit it up by beating $71 resist level. In my opinion, LTC has shown that it may replace Bitcoin in the future in case of realizing payments. Rise in selling proper hardware by Bitmain and BW.com companies was not coincidence.

Bitcoin continues moving in its direction. The price moves in ascending channel since second half of July. In spite of the fact that fees are high, BTC is still unquestionable carrier of value and irreplaceable element in altcoin conversion. Implemented SegWit didn`t change much itself. It requires moving towards new address format. And this is possible in case of appropriate common implementation in wallets. Producers of hardware wallets, such as Trezor or Ledger, already implemented such solutions. This cannot be said about LTC, where after SegWit implementation only Trezor made appropriate modifications.

It is also worth writing few words about DASH. Since half of August price moves in ascending channel with peaks on 19th and 26th August. Thanks to the community`s work a very important conference will be held in London. However, it is not hard to see that the ones who contributed to spreading DASH are mining hardware producers. Thank to debut of new hardware rise of hashrate and difficulty increase is expected. Currently Bitmain and Innosilicon offer proper devices to mine DASH in presale.
Author: Dawid Muszyński, Flyingatom.com
Previous ranks of cryptocurrencies:
Top Cryptocurrencies in July 2017
Top Cryptocurrencies in June 2017
Top Cryptocurrencies in May 2017
Top Cryptocurrencies in April 2017
Top Cryptocurrencies in March 2017
February 2017 cryptocurrencies' ranking
Top Cryptocurrencies in January 2017