How to organize community meeting? What difficulties do we have to overcome? How do such meetings look like? How does the integration of local community goes? We talk with organizers of [email protected] meetups about integration of polish cryptocurrency community: Tomasz Korwin-Gajkowski, Tomasz Kurowski, Wojciech Kwiatek.
Why did You decided to organize meetings such as [email protected]?
Tomasz Korwin-Gajkowski:
Basically it was the need of market. We noticed that there was no such thing in Cracow. Moreover, we heard many voices that meetups would be a good idea to integrate the community. We know that in Warsaw or in many other cities such meetings have been taking place. And Cracow is obviously one of the biggest cities in Poland. There are also many developers and financial sector workers who are the backbone of such meetups. We have observed the leading places in cryptocurrency technology development such as London or New York. Not only one but many independent and cyclic cryptocurrency meetups take place over there. What is interesting, Swiss region of Zug city is commonly named as Crypto Valley – such meetups take place there almost every day.
Who organizes the meetups?
Tomasz Kurowski:
Organizators of [email protected] are Tomasz Korwin-Gajkowski, Wojciech Kwiatek, Jacek Sieradzki, Adam Kotucha and me – Tomasz Kurowski. It is worth mentioning that not only programists such Tomasz Korwin-Gajkowski are engaged in organization of meetup. Also strictly business people like me and Jacek or people who are taking care of strictly law topics like Adam Kotucha. We may say that a really interesting team has gathered up
You`re making a good team. Have you known each other before or did You meet during efforts to create meetups in Cracow?
Tomasz Korwin-Gajkowski:
I`ve been met with Tomasz Kurowski thanks to our mutual colleague Piotr Gankiewicz (he helps with making [email protected] – thanks!) and basically this is how it all started. I know Wojtek since a few years and Adam since my teen years. Acquaintance with Tomasz and Jacek is the newest one. We are all well complemented, which is very important. Everyone of as comes from a bit different society (Tomasz Kurowski and Jacek are financial banks employees, Adam is a lawyer, Tomasz Korwin-Gajkowski is a programmer and Wojciech is a cryptocurrency investor). This activity goes on very well and we`re developing very fast. This in turn gives as huge satisfaction and motivation to further work.
Tomasz Kurowski:
I`d like to add that currently five people are taking care of meetup organization. This means that although we can barely meet in our full group, organizing meetups runs smoothly. Actually, with every month or a week we do it even better and faster. I would say that we are on ascending wave: higher and higher attendance, more people are asking about meetups along with higher invest in them. It is extremely motivating for us. At the same time we have market our goals. They may be ambitious but we believe that we will be able of fulfilling them – of course all in appropriate time.
Since You know each other for a while You`re probably also interested in Bitcoin?
Tomasz Korwin-Gajkowski:
Yes indeed. From our group it was Wojtek who first took interest in Bitcoin. Shortly after I did it. It was about 2011 so pretty long ago thus we remember all bubbles (laughter)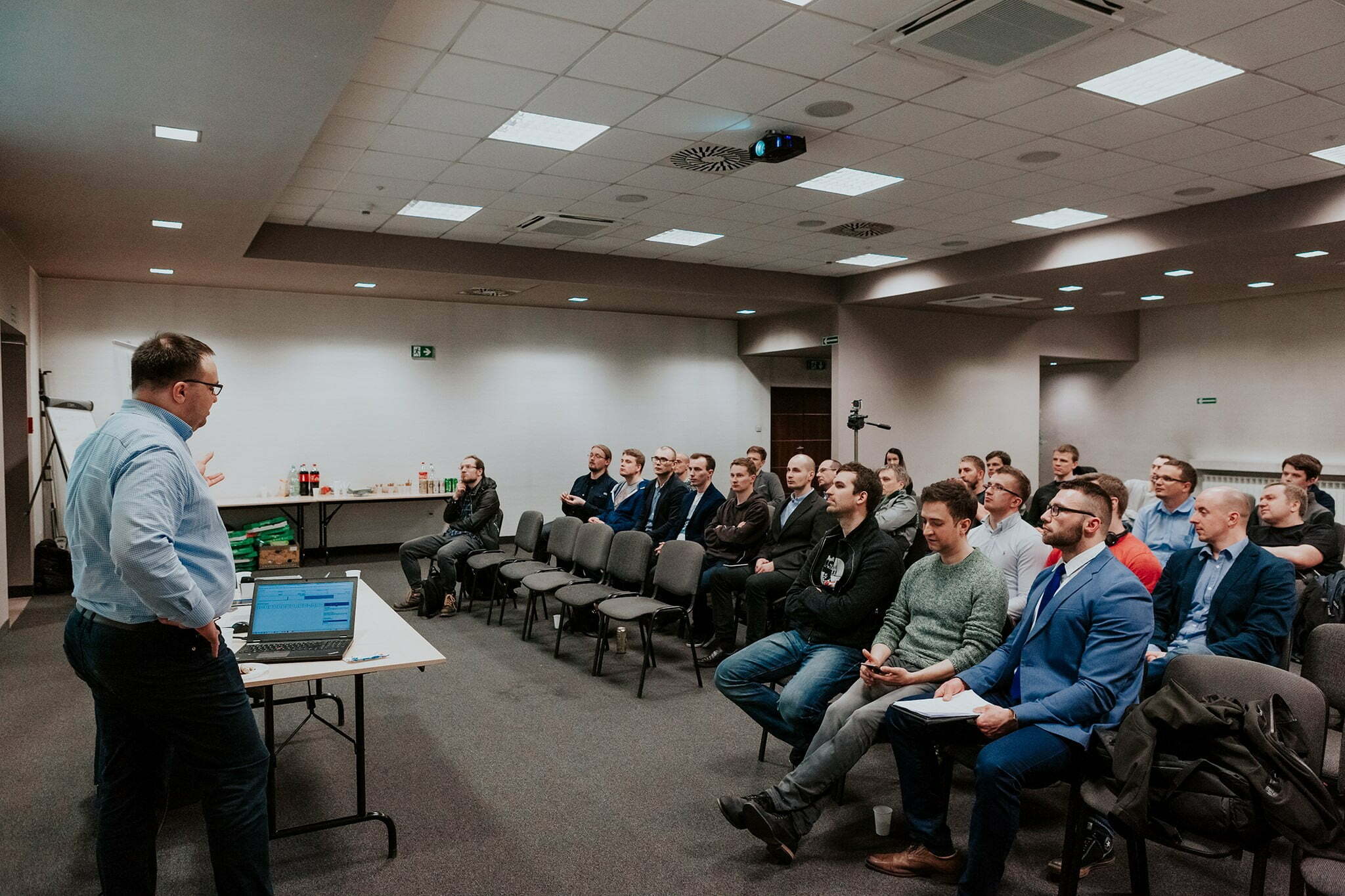 To start organizing such meetups You first need to find a catchy name. Simultaneously it should express the goal of meetup. It seems that [email protected] fits this requirements perfectly?
Tomasz Kurowski:
The name was created accidently when we were writing with Tomasz our latest article "Digital Cash in a Cashless World". Somewhere there between the lines name was spoken and Tomasz said to write it into GoogleDocs, let it stay there and we`ll see what to do with it in the future. The future came quickly because just a month after that me were organizing our first meetup – [email protected] was scheduled in our calendar. The name has been welcomed friendly, it is catchy and our guests like it. It also sounds modern. Although at the beginning it was just work name it has stayed with us.
A good idea is only half of the success. One need to realize it. How did the organization of such meeting go? Was it hard to start and what difficulties you had to overcome to set up your initiative?
Tomasz Korwin-Gajkowski:
Organization of meetings went surprisingly smooth. As soon as we took the initiative it turned out that many people are keen on helping us. Perhaps partly because we were first and such events haven't  take place in Cracow before. We had no bigger problems.
Wojciech Kwiatek:
When first event turned out to be a big success many companies started to be interested in us. Many questions about another meetings started to come out. Also a sponsor appeared – Metrosoft company – which engaged in organizing meetup. Especially that their activity is connect with our blockchain one.
Many people are already coming to your meetups. So how do they look like and what can we learn from them?
Tomasz Kurowski:
Meetings are cyclic, they take place usually every month. Meetup is free – everyone can come. We put efforts to create a certain scheme: we start from multimedia presentation, than Q&A session and time for networking in a great atmosphere. Recently we had also some add-ons such as pizza and cold beer so there are also informal parts. Presentation usually takes about 1-1,5h (it depends mostly if the questions are asked during presentation), than Q&A session about 30 minutes and networking at the end. One should reserve about 3 hours for [email protected] meetup.
Tomasz Korwin-Gajkowski:
On the meetings we tend not to take time for presenting or discussing price of the cryptocurrencies. We focuse only on usage and technology because we don`t want to attract speculative community. Anyone can do that, there are tons of groups that take care of that. We want to specialize in sharing knowledge and building community based on mutual cooperation. We neither sell anything nor persuade to something. We are not connected to any particular cryptocurrency. We try discussing everything objectively and show both facts and our opinions. We show advantages of this technology – its transparency and other usage. We want to inspire people so that they will be interested in topic by their own. Thanks to that they will be able to individually decide whether particular cryptocurrency is useful or not.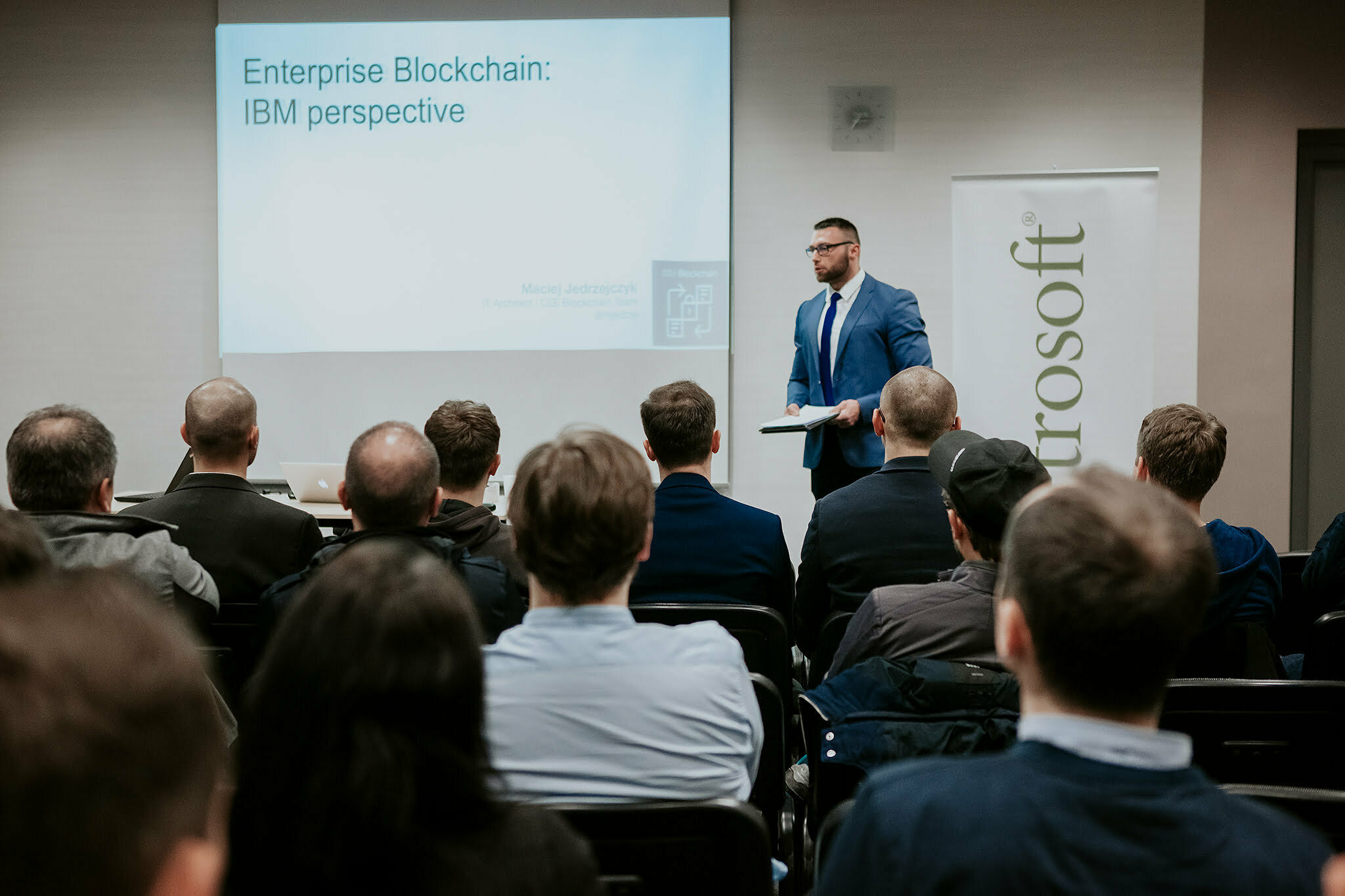 What such meeting give to people? Do they help to integrate community?
Tomasz Korwin-Gajkowski:
First of all, they give what I felt lack of before: a Crypto-Community in Cracow. We read articles on Facebook, Twitter, LinkedIn and other sites and there is no one who we could talk with face to face. Meetings simply give such opportunity. We can talk with people who are also interested in this topic. Of course there are presentations and time for questions but what is a really important part is networking which gives opportunity to share thoughts.
Tomasz Kurowski:
Important part of such meetups is also busting myths about blockchain technology and cryptocurrencies. Majority of participants have heard in many places about blockchain but in the context of Bitcoin or even find these terms the same. When it comes to Bitcoin itself, it has different reputation. Between people with larger knowledge it is perceived as a good investment alternative and between those with wider knowledge it is connected with dark market, illegal weapon trade or drugs. This is the reason why myth busting is important also in the context of future financial solutions. We share knowledge basen on facts not emotions and there are plenty of them in cryptocurrencies and blockchain – both positive and negative.
Wojciech Kwiatek:
Aside of busting Bitcoin myths we have also many questions about sharing of pure knowledge. People want to learn how does Ethereum work or Monero. Because of that we want to organize dedicated meetings to fill the knowledge hunger of people who want to learn something new.
Entrée is free. But does really anybody can come on such conference or is there required certain level of knowledge to understand the meeting?
Tomasz Korwin-Gajkowski:
We don`t want to close on any community. We want to have different guests and talk about various aspects. Not only technological but also legal or economical. We will differ our meetings according to these topics. There both be meetings about more basic aspects and advanced ones. We will inform about the topic of every meetup properly earlier and with required precision so that everyone will be able to state if they`re interested or not.
You`ve got contact with many people who have bigger or lesser knowledge about cryptocurrencies. How would you comment awareness of Polish people in that aspect? Many people are interested in this topic?
Tomasz Korwin-Gajkowski:
Compared to countries such as Estonia, Switzerland, USA or Great Britain we look unfortunately quite weak. Cryptocurrencies, as for now, are still associated negatively. Not many people are interested in blockchain but we have to emphasize that the trend is strongly ascending. There is also a project brought by the Ministry of Digitalization ……………… , which strongly contributes to promoting blockchain. In Poland we also have many specialists that are fluent in this technology such as Krzysztof Piech or Maciej Jędrzejczyk. It is worth mentioning that many people treat cryptocurrencies as a quick occasion to become wealthier. It can be seen when one reads internet forums, especially on facebook`s discussion groups. There are very often questions like: "I`ve got certain amount of money and would like to invest it right here, right now. I`m interested in return rate of 100%, 500%, 1000%." Of course in a day or two it its possible…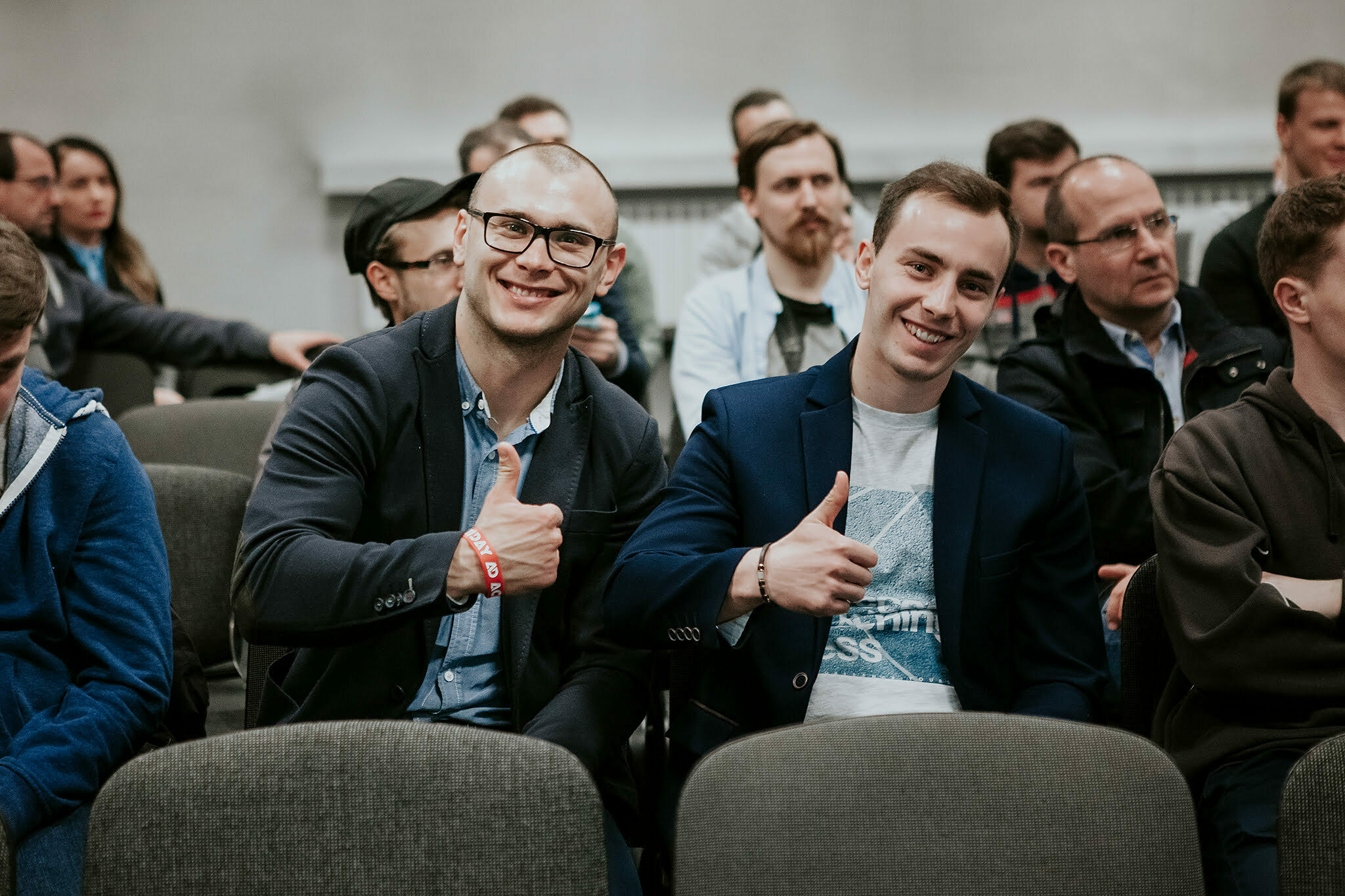 So more people are interested in quick earning rather than idea and technological benefits of distributed ledgers?
Tomasz Kurowski:
Certainly more people are interested strictly in investing in cryptocurrencies than development of blockchain technology.
Wojciech Kwiatek:
There is a need to change specified paradigm in the society. I have in mind a stereotype that if no trusted institution stays after currency than such currency cannot achieve anything. One must know that someone emits currency, controls its supply and demand, and takes care that it isn`t  falsificated. When we talk about digital currency than people aren`t even aware that our polish złoty (PLN) is also digital money. However, when they finally assure that we are talking about cryptocurrency it starts to associate negatively and people stop thinking that there really might be something in it.
Tomasz Kurowski:
It`s worth mentioning that prefix "crypto-" shouldn`t be connected with hiding something but rather with part of mathematics, cryptology and cryptography.
And how would you review Poland according to new businesses, startups and companies connected with blockchain technology. Do entrepreneurs look better from that point of view than normal Smiths?
Tomasz Korwin-Gajkowski:
Higher number of rising startups and companies can be seen. Of course the biggest successors here are exchanges but there quite a few smaller projects who are perfoming very well. Recently on Techcrunch i`ve seen Userfeeds startup. It`s been loud about it also outside borders of Poland. We are starting to be seen in the world and as Poland we have our input in development of technology. Even when it comes to simple Bitcoin volume Poland is quite high compared to its size and wealthiness of country.
Wojciech Kwiatek:
Many worldwide blockchain-bitcoin companies use polish banking systems. It is happening so because Poland still has quite liberal attitude towards cryptocurrencies compared to other western countries such as England of Germany. So both enlish or even unfamous Mt.Gox had their financial background in Poland
Meetups take place not only in Cracow. Of course the leader is our capital Warsaw but smaller cities such as Sopot or Bydgoszcz are also active in that field. Are You cooperating with other organizers?
Tomasz Korwin-Gajkowski:
We have really good relations with communities in Wrocław and Warsaw. We have also been invited to go there and hold one of the meetups. We try to mutually invite people engaged in organizing such events in other cities.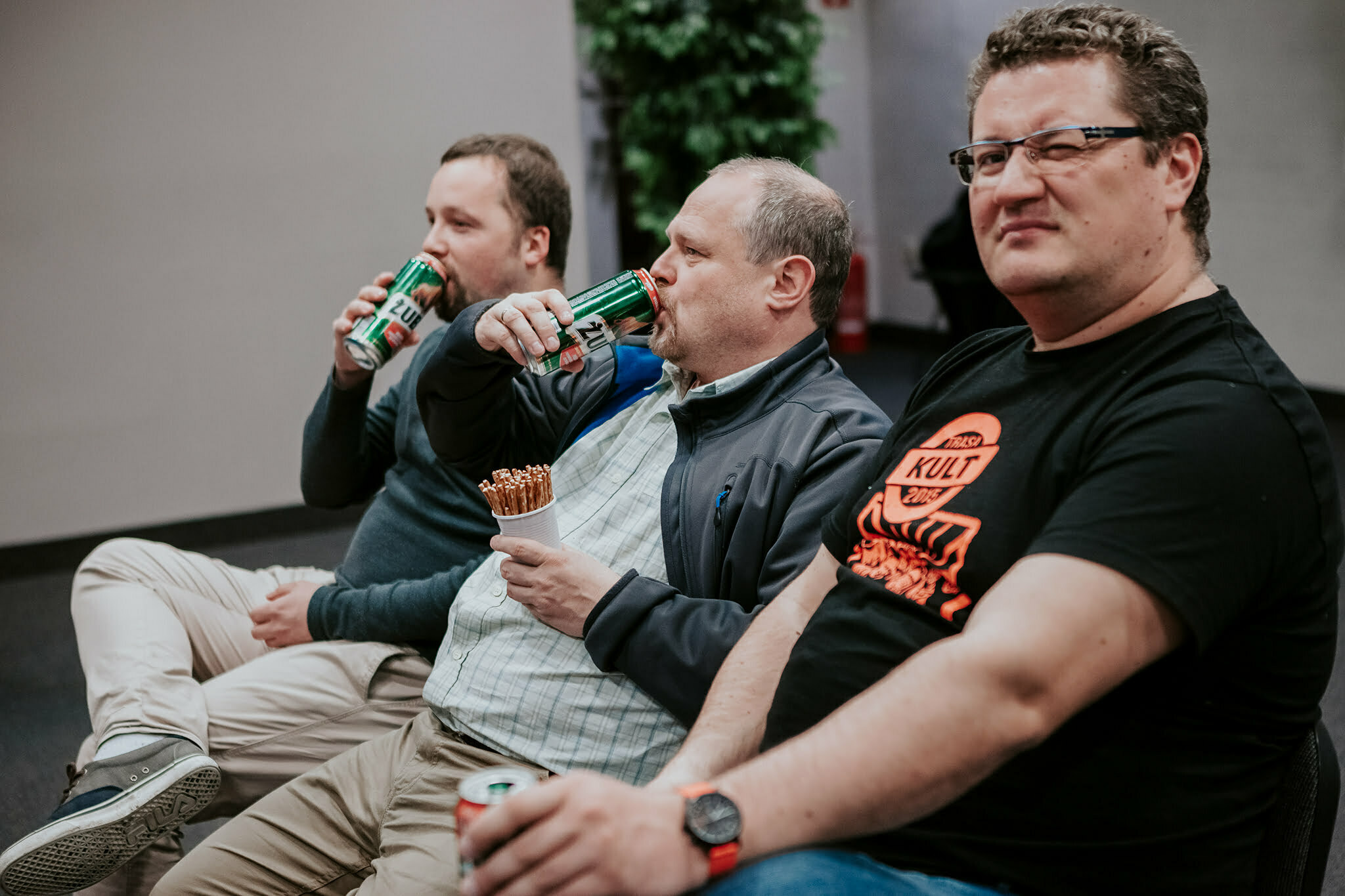 Meetup organizations contributes to knowledge broadening of users but it is not the only way to propagate it. Do You have in plans any different form of activity to popularize blockchain technology?
Tomasz Korwin-Gajkowski:
Of course we have. We want to host workshops and hackathons. The structure would be quite similar as at the university: first theory, than practice and at the end checking of abilities and competing with others. Everything freely and there will be plenty of rewards to win.
Tomasz Kurowski:
On 23rd May, 6 p.m. in Food&People we will be taking part in monthly event Women in Technology, were we`ll be discussing basics of blockchain and cryptocurrencies. I hope that mainly in front of ladies who will be keen on learning something from this topic. We are so excited that can barely wait!
Tomasz Korwin-Gajkowski:
In turn in Warsaw on 1st June there will be Digital Money & Currency Forum conference where we will present subject of notarization of electronic documents in distributed ledgers.
Cooperation with other cities certainly pleases You but what can we predict on an upcoming meeting in Cracow?
Wojciech Kwiatek:
The next meeting is going to be presented not by guest but by us. The main topic is Ethereum. We will try to introduce into this interesting cryptocurrency and its technological aspects as well as law aspects. The formula is going to be quite the same as previous meetings.
So You`re discussing not only blockchain and Bitcoin. How than do You chose the topic of meetup?
Tomasz Korwin-Gajkowski:
First of all we are listening to the community and comments that appear after meetups. We sa that there was a big demand for Ethereum. Many people told us about it during meetings. There were also comments on our site requesting such meeting. And finally sponsor themselves are interested in Ethereum. We treat all these voices very seriously and respond to the demand by organizing such meetup. We are also opened to any propositions and suggestions……………. We also invite people to participate in our meetings as hosts. Our idea is organizing meetings shiftly: one time we`re talking about crypto and next time guests. We hope that the community, which is quickly rising, will also come up with its own ideas.
There is nothing more to say but wish You that more people come to meetings and cryptcurrency community gets larger. Thank You for your time!
We hope it is going to be so. For now on we are ready to act. Thank You and come on next meetups!
Interview by Michał Wnęk